Have you found the perfect person that you love and want to be with for the rest of your life? Have you bought the most beautiful ring and thought of an amazing speech to tell them when you get down on one knee? If you answered "yes" to all the questions above but still have no clue where to take them for the big question then look no further, this article is for you!
Asia is incredibly diverse, with a rich tapestry of cultures, languages, religions, and traditions. Exploring the different facets of Asian cultures allows travelers to broaden their perspectives and gain a deeper understanding of the world. Asia also boasts diverse and stunning landscapes, and some of them happen to be the best destinations in Asia for a proposal. Today, let us walk you through our top 10 most romantic destinations to propose in Asia, from white sandy beaches to one of a kind hot air balloon rides, that will definitely grant you that "Yes!".
Hoi An, Vietnam
We're starting off our Top 10 most romantic destinations to propose in Asia list with Hoi An, a UNESCO recognized city as a World Heritage Site, known for its innate charm and romantic atmosphere. Have you ever imagined taking a walk on the Pont Neuf in Paris at night along the banks of the Seine, then getting down on one knee and proposing to your partner? Of course you did, we all have. So that's probably why you should choose some other place, huh? Luckily, Hoi An is basically the same thing but lesser known. Imagine a town with ancient architecture, culture heritage adorned with lanterns, situated beside the Thu Bon River. Treat yourself and your partner with a romantic dinner at one of the riverside restaurants, combining the joy of proposing with the pleasure of enjoying local delicacies. You can even consider a proposal on a traditional boat ride along the river. The gentle flow of the water and a spectacular display of colorful lanterns illuminating the town can create a serene and intimate setting for your special moment.
Bali, Indonesia
Bali obviously makes it to the Top 10 most romantic destinations to propose in Asia list. It's one of the most beautiful and romantic destinations to propose in Asia that houses incredible beaches and breath-taking islands that are perfect for couples. Bali offers unique experiences, such as private boat rides, candlelit dinners on the beach, and spa treatments for couples. If you think proposing by the beach, especially in Bali is overdone, don't worry there are tons of other places in Bali that are worth checking out. You can pop the question at the Blangsinga waterfall, as the majestic water cascades behind you, no one there but you and your partner and raw, pristine nature like the bond you share. You can even consider doing so in front of Tegalalang terraced rice fields in Ubud, the golden terraced rice fields that resemble stairways to heaven will surely be an amazing setting for your proposal, and a unique one too!
Luang Prabang, Laos
Luang Prabang is a UNESCO World Heritage site which combines cultural richness, well-preserved architecture and natural beauty, making it one of our fierce competitors in the Top 10 most romantic destinations to propose in Asia. The town's historical charm, with its temples, monasteries, and colonial-era buildings, makes it a romantic and unique destination for a proposal. Luang Prabang exhibits a blend of traditional Lao and French colonial architecture. Strolling through the charming streets, especially in the evening when the streets are lit with lanterns, can be a romantic and magical experience. Why not enjoy a local meal then walk hand in hand with your significant other in the lively night market, and when they least expect it, you get on one knee and offer to be with them for the rest of your life? People around you would clap for sure! If you prefer a more secluded spot for the two, why not go above and beyond (literally) to the top of Mount Phousi? Climbing Mount Phousi, the sacred hill in the center of Luang Prabang, offers panoramic views of the town and surrounding landscapes. Proposing at sunset from this vantage point can be a breathtaking and romantic experience.
Phu Quoc Island, Vietnam
Phu Quoc, renowned for its pristine white-sand beaches and crystal-clear waters, is one of the best destinations to propose to your partner in Vietnam. Proposing on one of these picturesque beaches, with the sound of the waves and a stunning sunset, sounds like the perfect idea. Phu Quoc is known for its natural beauty, including lush tropical landscapes, waterfalls, and unique wildlife. Exploring the island's natural wonders together can make your proposal more adventurous and memorable. Consider proposing in Phu Quoc during a romantic sunset cruise. Phu Quoc offers boat tours and cruises where you can enjoy the breathtaking views of the sun setting over the Gulf of Thailand. If you and your partner enjoy water activities, Phu Quoc's coral reefs and marine life offer excellent snorkeling and diving opportunities. Proposing after a day of exploring the vibrant underwater world together will guarantee a YES!
Maldives
Being one of the world's most beautiful destinations, there's no surprise that The Maldives makes it to our Top 10 most romantic destinations to propose in Asia. The Maldives is renowned for its crystal-clear turquoise waters and vibrant coral reefs. It's the perfect combination of natural beauty, luxury and seclusion, making it an ideal destination for partners to exchange wedding vows and proposals. Other than the usual candle lit dinner or sunset on a cruise, which is perfectly fine though, there are some other ways that you can consider to pop the big question. If you and your partner enjoy diving or snorkeling, consider proposing during a romantic underwater adventure surrounded by vibrant marine life, which will leave your partner surprised and in awe! You can go for an even more unique and luxurious way of proposing: on a seaplane! Many resorts in the Maldives are located on private islands, and transfers are often done by seaplane. The aerial views of the atolls and islands can be breathtaking, and you might even consider proposing during this scenic journey.
Kerala, India
Kerala is endowed with diverse landscapes, including mountains, forests, waterfalls, and especially beautiful beaches along its coastline. Proposing on one of these sandy shores, with the sound of the waves and the golden sunset is a great idea and is no doubt one of the most romantic ways to propose in Asia. Kerala is famous for its backwaters and houseboats. Proposing on a traditional houseboat as it glides through the tranquil backwaters can also be a unique and romantic setting, surrounded by lush greenery and serene waters. If you want a place that's less popular, you can go for the Munnar's Tea Garden, a hill station in Kerala. Proposing amidst the rolling green hills of the tea gardens, with misty mountains as the background, is not only romantic but is a nice change from the usual beach or restaurant choices.
Da Lat, Vietnam
Da Lat has become a favorite among domestic as well as international visitors, known as the "City of Eternal Spring". Da Lat features charming French colonial architecture, including villas, churches, and government buildings. Furthermore, Da Lat is located in the central highlands, with a cool and temperate climate, which is a refreshing change from the warmer regions of Vietnam. This city is truly a mini Europe in the middle of Vietnam, which is why Da Lat is one of the most romantic destinations to propose in Vietnam and in Asia. This city is home to a bunch of places that are taken right out of a movie or fairytale. Propose to your partner in Fairytale Land, a beautiful garden inspired by Hobbiton village in New-Zealand where the Hobbit trilogy was filmed, and give them the complete Disney princess experience! You can even propose in the sky as you and your partner enjoy a private and scenic cable car ride to the Truc Lam Pagoda. Whether you prefer the charm of French-inspired architecture, the tranquility of nature, or the artistic atmosphere, Da Lat offers a diverse range of ideal destinations for proposing!
Chiang Mai, Thailand
Adventure seekers, you've come to the right place! Chiang Mai might just be one of the best destinations in Asia for you to propose! Chiang Mai is surrounded by lush mountains and scenic landscapes. Proposing in the midst of nature, perhaps on a mountain viewpoint like Doi Suthep while exploring the lush Doi Inthanon National Park can be an exciting and romantic experience at the same time. Chiang Mai is known for its hot air balloon festivals and rides. Proposing during a hot air balloon ride, floating above the scenic landscapes of northern Thailand, is guaranteed to be an unforgettable experience! Your senses are heightened as you float into the sky, and as the sun sets over the horizon, you get down on one knee and ask the person you're with to be with you forever! Sounds like the perfect plan, doesn't it? Each hot air balloon ride may only last for an hour but you will remember and cherish this amazing memory for the rest of your lives together!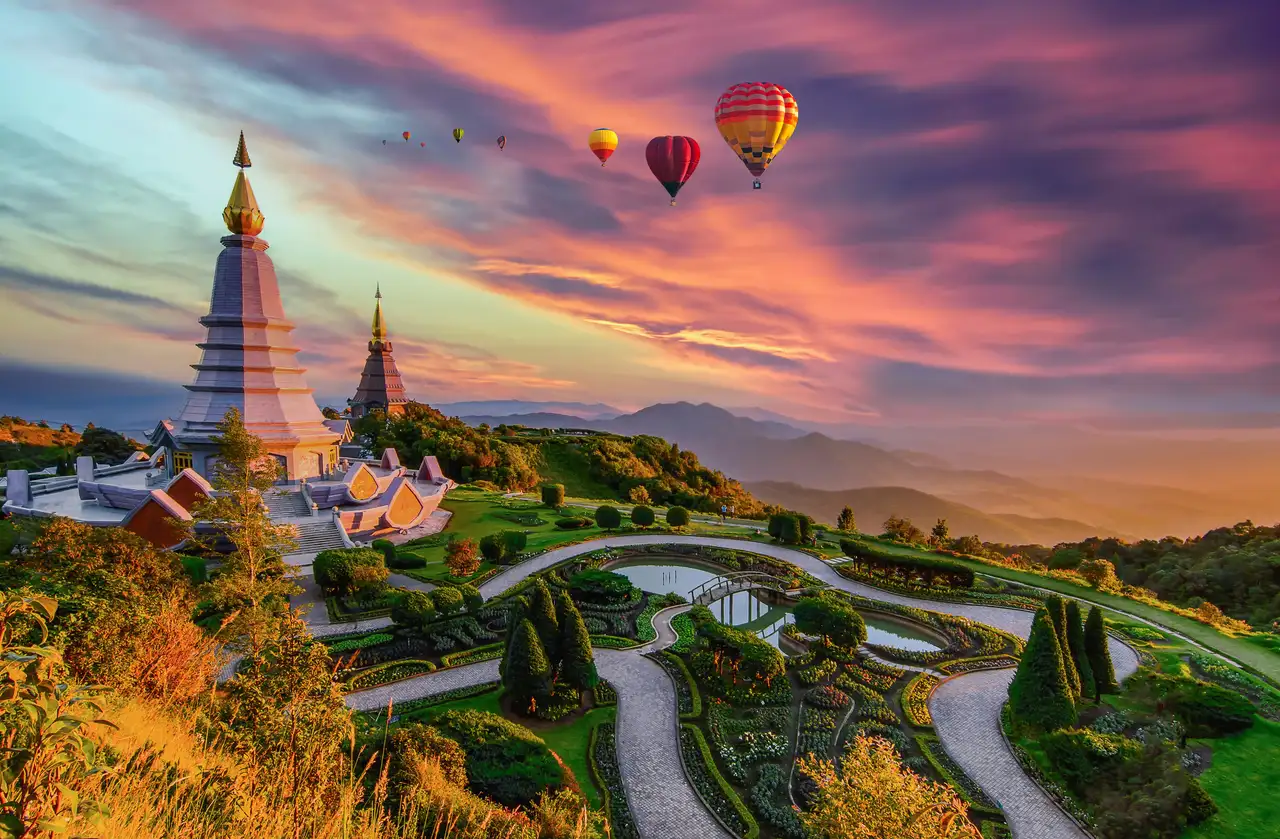 Kyoto, Japan
Kyoto is known as the cultural heart of Japan, with a rich history dating back centuries, and is home to well-preserved traditional Japanese architecture, including beautiful temples, shrines, and traditional wooden machiya houses. Kyoto is particularly enchanting during cherry blossom season, proposing under blooming cherry blossoms in iconic spots like Maruyama Park or along the Philosopher's Path can be a spectacular idea! This pleasant stone path is usually the most beautiful in April, when cherry trees explode with color, making it one of the most romantic destinations for a proposal! The Arashiyama Bamboo Grove is also a visually stunning natural attraction that many have chosen to be the place to ask the big question. The towering bamboo stalks are not only beautiful but they can also represent the values of strength and integrity, which is common in many Asian cultures. This can be a meaningful and beautiful way to propose to your loved one!
Halong Bay
And finally, we're concluding our Top 10 most romantic destinations to propose in Asia with the old but gold - Halong Bay. This UNESCO World Heritage Site is renowned for its stunning natural beauty, featuring thousands of limestone karsts and islets rising dramatically from the emerald waters. The unique and picturesque landscape creates a breathtaking setting for a romantic proposal. Many couples choose to propose during a cruise in Halong Bay, especially during sunset. Drifting through the calm waters surrounded by towering limestone formations as the sky changes color is without a doubt, a magical and romantic setting for such a special moment. Some cruises or private boat charters offer secluded spots away from the crowds, providing an intimate setting for your proposal. Imagine proposing on a quiet deck with only the sounds of nature around you. You can even pop the question over a romantic dinner on the deck, just you two, with candlelight and the stars above. Proposing in Halong Bay allows you to combine the beauty of nature with a touch of adventure and luxury, creating a unique and romantic experience that you and your partner will cherish for a lifetime.
Hopefully this article has helped you with your proposal plan! Pick any of these beautiful destinations and have nature work its charm! Even if you just want to have a vacation here and spontaneously pop the question when the time comes then that works too! Either way, it will be a vacation of a lifetime !
=> Halong Bay Vietnam - A Stunning World's Wonder
=> Honeymoon Tour Packages in Vietnam 12 Days
=> 5 Best Things To Do on Phu Quoc Island